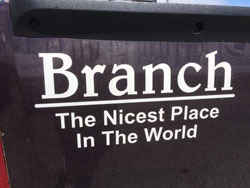 Click for photos of Branch Come Home Year 2017 - photos by Mallary McGrath.


Welcome to the Town of Branch's web page, our home on the web !




Here you will find town updates, discover an assortment of photos in our photo
gallery and access links to other informative online resources involving Branch.

Click to link to Branch Kids Concert (MP3)




Tucked away at the far west side of St. Mary's Bay, Branch currently boasts a
population of 230 people. With an authentic Irish dialect, and a colorful array of
interwoven stories, traditions and customs, Branch is known for its refreshingly
genuine charm and tapestry of history.

Whether you're from Branch or just passing through, Branch's lure will always invite
you back.

Our community proudly relies upon the efforts of volunteers that support and
strengthen Branch through an abundance of locally led organizations and committees.
With enthusiastic volunteers devoted to the maintenance and management
of community infrastructure and social events, our town is a lively, energetic outport.

With outmigration of the younger generation a concern in recent decades, Branch
views its youth as its most valuable resource. While we encourage community
participation of all ages, we particularly support youth engagement.

The Town of Branch values community feedback and encourages community
engagement. Please feel free to contact us at (709) 338-2920.




All music, graphics and information are
copyright of the respective authors.